Short on time?
Here are 3 tips and tricks I use for streamlining my food prep and making life easier!
Sometimes I cook once and eat twice… I admit it. I don't really want to spend all day in the kitchen. Sometimes it's fun, but other times, I just wanna go out and play! LOL! So, to give myself more play time, I cook once and eat twice...or thrice! (Is that a word?)
If I make things like rice, quinoa, millet, or beans I make them plain and cook a whole bunch at once. I eat one part and refrigerate or freeze the rest for another day. Then when I'm short on time, I can make a stir fry or a buddha bowl (warm or cool, vegan or not) with veggies, beans, and leftover meats/shrimp.
I also make plain oatmeal in bulk. Then each day it takes just minutes to re-heat it and while re-heating I can add in different toppings for variety. I can top it with nuts, seeds, diced fruits, raisins, chopped dates, fun spices, eggs, plain yogurt, pumpkin puree, almond butter, etc. Even cocoa powder or 100% chocolate shavings! And who doesn't like chocolate for breakfast?
If you're a crockpot/instant pot person, it's easy to make spaghetti sauce, soup, and chili in bulk and freeze some for later for when you need a quick lunch or dinner.
Making pork tenderloin, chicken, shrimp, carnitas, or other type of meat? Make extra--eat it for dinner one day and use it for a bunch of stuff the next day! Top a salad! Make a stir fry! Have corn tortilla street tacos! Make a lettuce wrap! And, as a fun little aside...some meats can be cooked and frozen (like carnitas and meatballs) and used on a whole other day!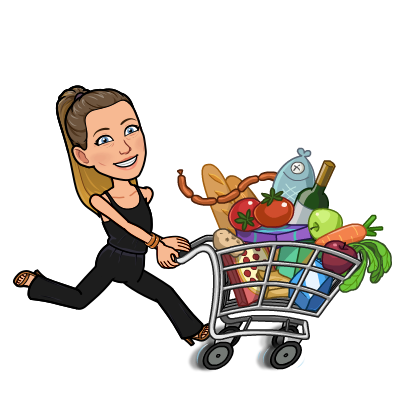 Sometimes I cheat! So yeah, I REALLY like to cook things from scratch so I can control what's put into my food, but life can sometimes get suuuuper busy so I need to be mindful about balancing my stress level with the need to control what I eat. And sometimes, having less stress is way more important for my overall health!
In those cases, I've been known to buy a Rotisserie chicken from the store and use it sliced one night for dinner and use it the next day as a salad topper or cubed and thrown into a hearty soup. If you're trying to cut down on colors/preservatives/sugar or whatever, throw the skin away. Most store cooked chickens have lots of junk thrown on top.
Canned beans. You can buy organic and check the labels for weird add-ins. There are lots of good brands out there with low/no salt and nothing else added!
If I'm REALLY pressed for time, I buy things like bags of organic power greens, pre-chopped veggies, frozen riced broccoli/cauliflower, frozen veggies, bone stock, etc. Some peeps also buy prepared soups and frozen meals, but that's harder if you're trying to avoid sugar, reduce salt, or avoid additives, colors, and preservatives. You have to REALLY check your labels!
I do my best to do some food prep on days when I DO have time!
So on days when I have a minute, I turn on some tunes that I love to dance around to, I think about my 4-5 main meals that I want to make during the week, I grab the cutting board, and I take all the fruits and veggies out and have a little food-prep-dance-party in my kitchen! And yes, I DO sing at the top of my lungs while doing it!
I peel and cut a whole bunch of carrots, peppers, celery, and cucumbers into strips. Great for snacks with hummus or compliant dip, plus they are now half-prepped for salads, stir fries, and cooked sides for when I'm making lunches or dinners!
I chop a whole bunch of onions--now they're ready for adding to dinners and salads or throwing into scrambled eggs or omelettes in the morning!
I make a large batch of mayo, dip, hummus, and dressings to use throughout the week!
I cut up that mini watermelon or cantaloupe and put it in a see through container in the fridge so hubby is more likely to see it and snack on it!
So that's it! 3 ways to streamline meal prep!
Do you have tricks and tips for making your time in the kitchen more fun or more efficient? Share below!
Hugs to you!
Dorothy